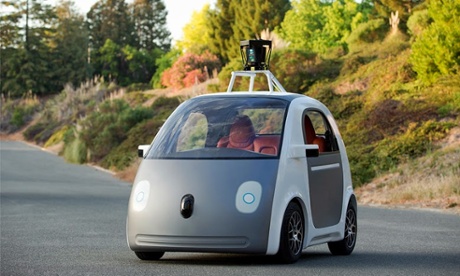 Google has recieved a serious setback with it's driverless cars project. California's Dept. of Motor Vehicles has ruled that drivers need to be able to take ''immeadiate physical control" of the car if needed, meaning that Google are required to introduce steering wheels and pedals to the cars. It's a massive blow to Google, who previewed autonomous cars at the beginning of 2014 with no manual controls, but will now legally have to include pedals and steering due to new legislation taking effect in September 2016.
WSJ suggests that Google will adhere to these regulations, however, it is expected to have a significant impact on the original design and Google's small-car blueprints will be severely effected by the insertion of a steering column and pedal box. Google will begin testing in September, and they will move to public roads in 2016. The internet giant shows no signs of wavering in it's support of driverless vehicles, and perhaps that's admirable, but only time will tell whether it has been blind faith or an inspired decision to continue such strong support. Watch this space...  
The driverless car phenomenon has certainly gathered pace in recent months, but what do the next five years have in store, and what can we expect?
DRIVERLESS CARS TIMELINE:
·         2014: Volvo announce 'Adaptive Cruise Control with steer assist. Mercedes already has the car on some markets.
·         2015: Audi plans to put autonomous cars with ability to steer, accelerate and brake at lower speeds on the market
·         2016: Mobile free to release hands-free driving technology.
·         2017: Tesla plans 'autopilot' features that will handle 90% of mileage. 
·         2017-2020: Google hopes majority of self-driving cars will be available to the public
·         2018: Nissan plans cars that will have a feature to manoeuvre between multiple lanes of traffic