Business Car Leasing Explained
More and more businesses now choose to lease rather than buy their cars, vans and fleet vehicles, and this number continues to grow year on year. Today, corporate leasing alone (not including business types such as SMEs, the self-employed and sole traders) accounts for over 2 million vehicles in the UK.
What is Business Car Leasing?
Business car leasing is similar to renting, in that your business is using a particular vehicle(s), for an agreed length of time (usually between 2 – 5 years), for an agreed and set cost.
You have complete freedom over the vehicle's make, model and specifications (colour, trim, etc.), and the contract is tailored to your business's needs in terms of annual mileage, length of contract and how the business would prefer to structure payments.
At the end of the contract the vehicle is simply returned, checked over, and the payments cease, leaving your business free to take another lease, should it wish.
The total cost of the vehicle lease is calculated on several factors:
The P11d value (i.e. the value of the car un-driven)
The car's estimated value at the end of the lease (the residual value)
The estimated annual mileage
The length of the lease
The admin fee
Who Is Eligible For A Business Lease?
Business Car Leasing
Eligibility Criteria
Regardless of size, your business may be eligible for a business car lease if it is one or more of the following:
• A Limited Liability Company (LTD)
• A Public Limited Company (PLC)
• A Limited Liability Partnership (LLP)
• A sole trader/self-employed person
• A charity, Embassy, Local or Government Authority
Other forms of business entity may also be eligible, depending upon the circumstances. In addition, your business must be currently trading and have a suitable income and profit level (these are assessed as part of the application process).
If you're a self-employed person, a sole trader, or in a partnership, read our guide to car leasing for the self-employed, sole trader and partnerships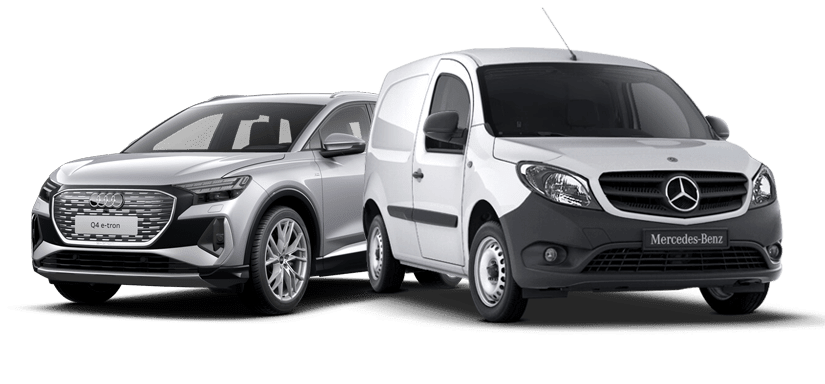 Business Documentation
As part of the application process, you will need to provide the following documentation:
• Your business details (business name, business address)
• The director or proprietor or business owner's details (name, date of birth, marital status)
• Business bank details (bank name, account number and sort code)
Credit Status
All business lease applications undergo a credit check to assess credit strength and risk status, however, this is a relatively quick and easy process. In some circumstances - for example if your business is new or has been previously declined for credit - we may also require one or more of the following:
• 3 months of recent business bank account statements
• VAT returns (if applicable)
• A director's guarantee/personal guarantee
• Year-end financial accounts
Special Offers
See our latest car leasing deals.
Learn more