THE majority of British drivers want cyclists to wear licence plates, so they can be identified and held accountable for their behaviour, our new survey of 1,200 UK motorists reveals.
As part of our ongoing study into Britain's behaviours behind the wheel, the stats highlight the concerning battle lines being drawn between cyclists and motorists. 

The poll saw 55 per cent of respondents saying they agreed with calls for bicycles to carry number plates when on the road. Just 15 per cent disagreed with that sentiment, while the remaining 29 per cent were indifferent. The animosity towards cyclists was consistent between both men and women, while people in London were most likely to support a cycle licence plate scheme - with 33 per cent of respondents saying they 'strongly agreed' with the suggested move.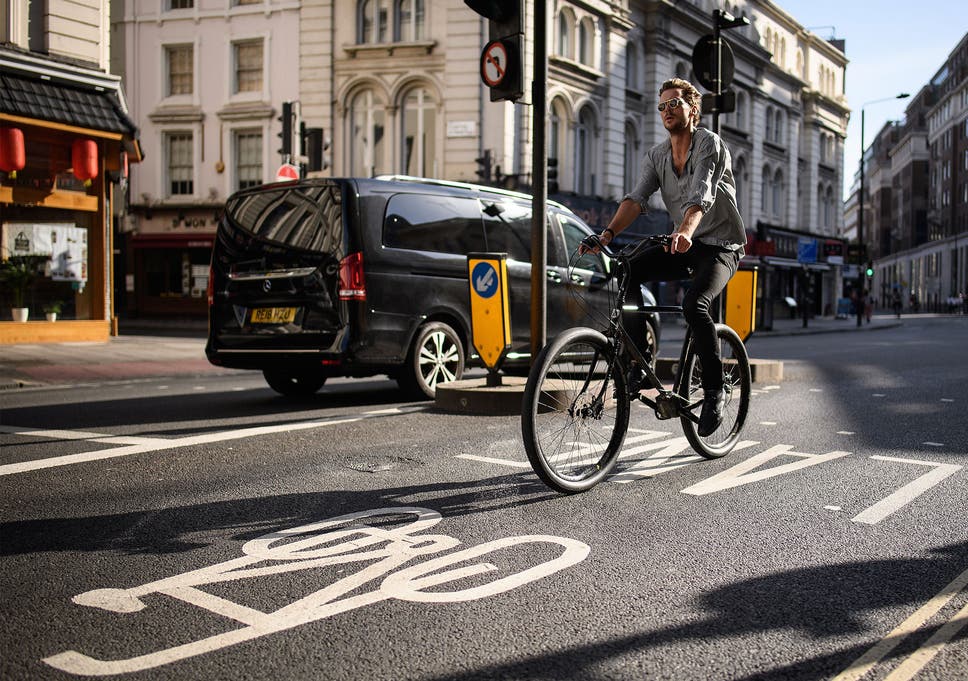 Mark Tongue, company director at Select Car Leasing, said: "While we are sharing and highlighting these results, we do not endorse them. We wish to see a situation where the road can be shared by all users without fear of recriminations. 

"There are bad behaviours on both sides - of that there can be no doubt. But these partisan arguments do neither cyclists nor motorists any favours.

"It's our view that anyone, particularly young people, should be able to get out on their bikes without having to pre-register with the authorities or having to pass a safety course - which is what any licence scheme would no doubt entail."
It's not the first time there have been calls for cyclists to wear plates.



In March this year Lord Robert Winston, a 78-year-old respected fertility expert and peer, said cyclists should be forced to carry number plates after he was assaulted by a woman he'd challenged for riding on the pavement. 

He said: "I went up to her and told her very politely that it was against the law to cycle on the pavement and it was dangerous. She snatched the telephone out of my hand and then threw it into the road. She then kicked me repeatedly. The requirement for number plates would mean cyclists who are blatantly breaking the law can be identified. 

"I think it could prevent some of the lawlessness and some of the aggressiveness. Most cyclists are responsible and conscientious but regrettably an increasing minority are very aggressive and break the law with impunity."
The Select Car Leasing survey also revealed other facets of driver - cyclist tension. 

Almost a third - 31 per cent - supported the argument that 'cyclists shouldn't be on the roads'. One in nine drivers (12 per cent) said they'd been on the receiving end of a rude hand gesture from a cyclist while 7 per cent had exchanged verbal unpleasantries with the last 12 months. 

Meanwhile one in five drivers (20 per cent) said they were 'nervous' driving anywhere near cyclists. 

Select Car Leasing's Mark Tongue added: "We think the survey stats highlight a need for better education about what cyclists are and are not allowed to do, and how we can all keep each other protected. 
"We'd also call for better access to the Government's Bikeability scheme, particularly encouraging more schools to adopt the programme. It's only through better understanding, and long term planning for the future, that we can bridge the chasm that has appeared between cyclists and drivers in recent years."

The poll, of 1,200 adult car owners, was conducted by Select Car Leasing via OnePoll

Survey highlights: 

'Cyclists should have licence plates when riding on the road'
- Strongly agree: 25%
- Somewhat agree: 30%
- Neither agree nor disagree: 29%
- Somewhat disagree: 10%
- Strongly disagree: 5%

'Cyclists shouldn't be on the road'
- Strongly agree: 12%
- Somewhat agree: 19%
- Neither agree nor disagree: 30%
- Somewhat disagree: 2%
- Strongly disagree: 18%

'I have had an unpleasant experience on the road when encountering cyclists' 
- Applied to 15% of respondents

Altercations between cyclists and drivers in the last 12 months: 
- 12% of drivers - have had a cyclist give them a 'rude hand gesture'. 
- 7% of drivers - have had an 'unpleasant verbal exchange' with cyclist
- 4% of drivers - have had something thrown at them by a cyclist
- 3% of drivers - have had their car deliberately damaged by a cyclist
- 2.4% of drivers - have had 'unpleasant physical contact' with cyclist, ie grabbing or hitting.