Volvo XC60 Lease
The Volvo XC60 is the mid-size option in the Volvo lease range, slotting between the XC40 and XC90. Along with its manufacturer, the Volvo XC60 is very highly regarded in the industry as a result of its high-tech safety features, interior comfort, and leading engine efficiency.
Volvo XC60 lease is a smart SUV choice, guaranteeing you a reliable and great to drive car.
Read more
Volvo's XC60 offers a number of trim levels, each providing an upgrade in terms of interior quality and comfort. The XC60 has had a recent refresh of its technology and as a result the interior is befitting of a top of the range SUV, made up of high quality materials with a crisp, 9-inch infotainment system the clear focal point. There's also a massive 483 litres of boot space which will swallow up a bike, golf clubs or surf boards with ease.
As well as being a practical and stylish SUV, the Volvo XC60 offers a range of engine options to reduce your carbon footprint and bring down running costs.
These are several trims which fall under the umbrella of the T8 hybrid model, which have an electric real-world range of 12 – 25 miles and an emission level of 47-56 g/km.
That ensures some of the XC60 PHEV models are highly affordable when it comes to the Benefit in Kind company car tax rate, attracting 13% for the year 2021/22.
The T8 is, therefore, a convenient alternative for those looking for a greener option to the traditional Volvo XC60.
It's also a great alternative to the likes of the Audi Q5, BMW X3 or Jaguar F-PACE.
Interested in leasing a car? Looking at a Volvo XC60 lease? For more information on Volvo XC60, or any Volvo model, please get in touch with us on: enquiries@selectcarleasing.co.uk or call: 0118 920 5130.
Car Leasing Category: SUV
Boot size: 483 litres
Engine Options: Mild-hybrid, plug-in hybrid.
NCAP Safety Rating: 5 stars
Read less
Price match guaranteed
Industry leading competitive rates
Volvo quality product
Brand new cars delivered to your door
Cover your service costs
Full maintenance plans available
Expert leasing consultants
rated on TrustPilot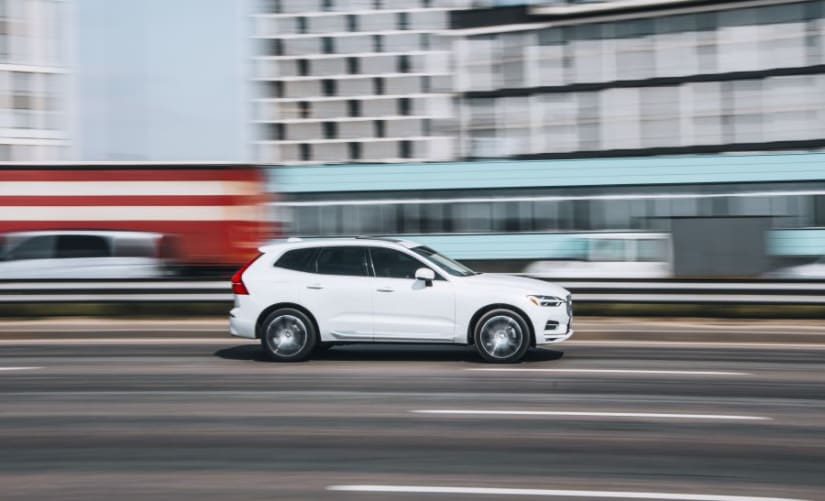 Want to know more?
Powerful, economical, sustainable and safe. The XC60 could be the perfect all-rounder.

Your Complete Guide To Car Leasing
In simple terms, leasing is the single most cost-effective and hassle free method of driving a brand-new car, and with Select Car Leasing you can be sure that you are in safe hands.
Volvo XC60 Frequently Asked Questions
Car leasing is becoming ever more popular in the UK because it makes driving desirable new models such as the Volvo XC60 easier and more affordable. The fixed and wallet-friendly monthly payments take all the hassle out of motoring, as well as reducing the need to worry about costly down payments. It also allows you to plan your finances more effectively. And because every Volvo is packed with cutting-edge safety systems and driver assistance technology, you know you're driving a classy, premium SUV that will look after you and your family.

A wide range of Volvo XC60 leasing deals are available, and that means you can find a version and an agreement that suits both your lifestyle and your budget. No matter whether you want your XC60 to be an efficient, eco-friendly family car or a sportier and more luxurious way of travelling, there's a deal to suit you. Better still, Select Car Leasing has links with some of the biggest names in the car industry, which allows us to offer some of the UK's most competitive car leasing deals and a range of special deals. Take a look at our selection of Volvo XC60 lease deals to find the agreement that's best for you.

The Volvo XC60 is well known for its style, safety and comfort, but that's not all you get when you lease an XC60. There's also an incredible amount of on-board technology and you get plenty of interior space. And that's before we even mention the vast amount of space on board for your family and luggage. But the highlight has to be the impeccable safety credentials, which give you the peace of mind that comes with one of the safest new cars on the market. If you're wondering which trim level will work best for you, take a look at the model description at the top of this page.

Volvo is famed for its safety, and the XC60 is no different. An XC60 lease will put you behind the wheel of a car that's packed with safety systems, which gave it a top-end five-star rating when it was subjected to the thorough European New Car Assessment Programme (Euro NCAP) crash test process. The car scored particularly strongly for protection of occupants, making it a great choice for families, and there's loads of safety tech to prevent accidents happening in the first place. And all that equipment is packed into a roomy premium SUV that has ample space for passengers and their luggage.

Leasing a Volvo XC60 gives you a choice of numerous trim levels and engines, with a trim level that offers unassuming Scandinavian cool, one that gives the car a sporty edge and one that packs the car with luxury features. Once you've picked your trim level, you get to choose from a wide range of electrically assisted petrol and diesel engines that offer you the opportunity to pick a model that suits your requirements in terms of performance, economy or emissions.


Don't just take our word for it. We're rated at 4.9/5 on independent reviews website Trustpilot from over
25,434
genuine customer reviews
Excellent service from Lee Thomas who was very professional and efficient throughout the process. Always on hand if needed and made everything very easy and stress free. Will definitely recommend.
I would give 7 stars ⭐️ to Rubin. From the initial contact right through to delivery Rubin has been available throughout. Excellent service received, the brand new Range Rover is excellent, Great job well done. We have ordered a A class Mercedes and we are kept upto date on all the milestones as we go along. Definitely 100% i will be sharing your details with my connections, friends and family. Regards Tj Singh - Chairman nu: move Group.
My point of contact was Michelle As a first time user, she guided me through the forms and helped me along the process when I was stuck Excellent service ... Thank you