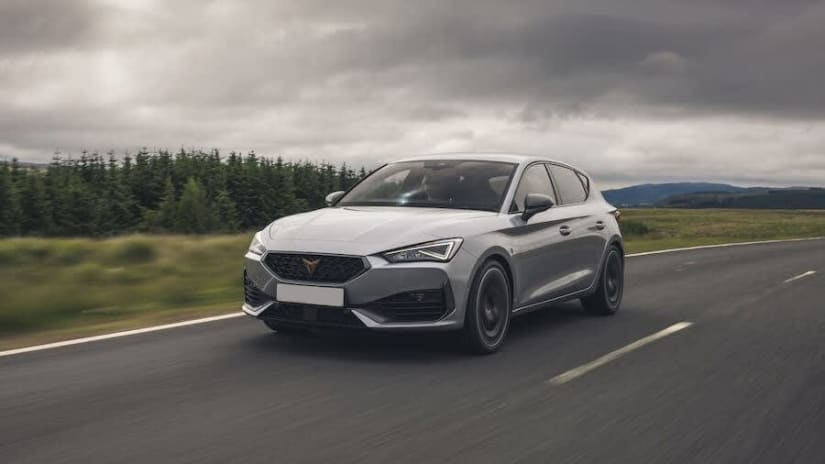 Want to know more about a Cupra Leon lease?
Distancing itself from its roots, the Cupra has shifted, with looks reminiscent of the Seat. Fun to drive, and offering its competitors a run for their money, the Cupra Leon is packed with impressive features as standard, and excellent value for money.

Your Complete Guide To Car Leasing
In simple terms, leasing is the single most cost-effective and hassle free method of driving a brand-new car, and with Select Car Leasing you can be sure that you are in safe hands.
Cupra Leon Frequently Asked Questions
If you want an exciting hot hatchback but worry you can't justify the expense, you could save money by leasing one. Leasing is increasing in popularity, sparing the need to buy vehicles outright and spreading your payments out monthly across the length of your agreement. So whether you want the sharp handling, the aggressive styling, or the power of the Cupra Leon, there could be an affordable lease deal just around the corner. In addition, depreciation stresses become a thing of the past – you just hand the car back at the end of your lease.
There are numerous variants available for the Cupra Leon, and your decision as to which one to pick will be the critical factor in the final price. But, because there's such a wide selection to choose from, there should be an option to suit your monthly budget. Thanks to our leading close links to the automotive industry, we're able to offer highly competitive prices and help save you money. So, just look around our website to view the latest special offers and exclusive deals, which are available nationally, to begin configuring your dream Cupra Leon.
By leasing a Cupra Leon, you will be getting a sought-after hot hatch that is full of personality, with excellent handling and performance to match. Not only that, but you will also be getting the latest driver assistance systems and safety technology to help keep you and yours safe while you drive this thoroughly enjoyable car. Please have a look at our website to read the model description and find out more specific details about what each version of the Cupra Leon offers. Then begin your journey towards leasing this exciting car.
The Cupra Leon is a car you can depend on to keep you and your nearest and dearest safe on the road. Technology, such as lane-keeping assist and frontal collision warning, is standard on all models to detect and prevent potential collisions. In addition, the Cupra Leon has been put through its paces by the European New Car Assessment Programme (Euro NCAP), which thoroughly crash-tests most new cars – and it scored impressively well. It has a spacious cabin with comfortable seats and a generously sized boot, too, which competes well against similarly sized vehicles.
The Cupra Leon has many different trims available, meaning there is an option to suit all tastes and budgets. What is remarkable is that even entry-level models have a plethora of technology and safety kit as standard. The car also includes a very well-designed interior and driver assistance systems so you can focus on the joy of driving. Those who want even more stylishness, such as bigger wheels or more powerful engines, will find them further up the range. Meanwhile, there is a good selection of optional extras to sprinkle a bit of extra luxury on top.

Don't just take our word for it. We're rated at 4.9/5 on independent reviews website Trustpilot from over
28,222
genuine customer reviews
I contact select car leasing after I had seen a particular deal that looked to be in stock and the price was competitive. I was able to find out that the car was indeed in stock (always worth checking) in particular colours and in the country too which meant we were able to take delivery of the car in around 3 weeks which was great as we needed it as soon as possible.
Ross Hamilton, the agent who looked after the whole process was incredibly professional and communicated really well to ensure that I was kept up to date. Even when my delivery was delayed due to the car having some damage, he ensured that I was kept informed, and helped me to get Mercedes to supply a hire car.
First class from start to finish. Adam understood our requirements and worked hard to accommodate in a very difficult climate. Highly recommended!