Vauxhall Corsa-e Lease
The new electric Vauxhall Corsa-e is a spacious and highly practical lease choice for the environmentally-conscious customer. Thanks to a certified all-electric range of 205 miles, a Vauxhall Corsa-e lease puts you at the wheel of a modern and efficient electric car, which utilizes the latest electric technology to great effect. Read more
The Corsa-e is Vauxhall's first full EV and combines the practical and everyday strengths of the best-selling petrol
Corsa
, with plenty of useful contemporary technology and an all-electric powertrain. Some of the best driver assistance systems on the market also debut in the Corsa-e, such as lane keep assist, adaptive cruise control and blind spot monitoring all aimed at maximizing driver's convenience on the road.
Corsa-e drivers will also get enhanced visibility over the efficiency of their driving and better control over their battery condition with the compatible smartphone app, which gives owners the capability to track the charge status of their vehicle and the option to delay charging times for later in the day.
Interested in a Vauxhall Corsa-e lease? If you require any further information, then please do get in touch with us. You can simply email enquiries@selectcarleasing.co.uk or alternatively give us a call on 0118 920 5130.
Read less
Price match guaranteed
Industry leading competitive rates
Vauxhall quality product
Brand new cars delivered to your door
Cover your service costs
Full maintenance plans available
Expert leasing consultants
rated on TrustPilot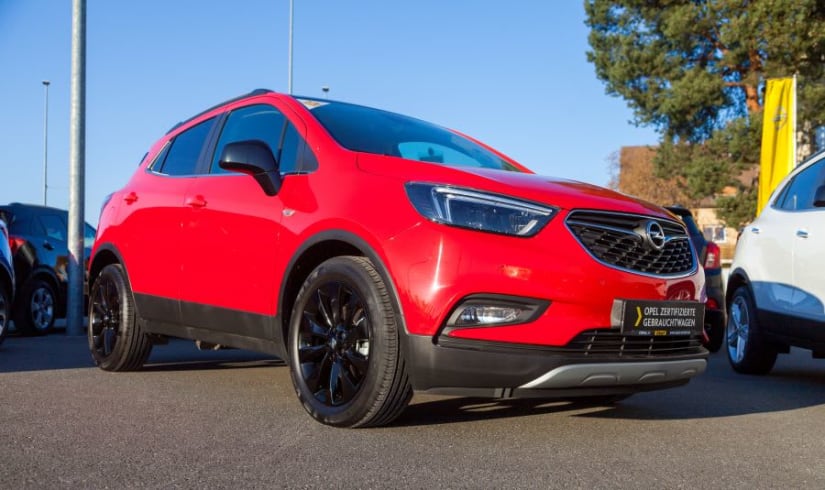 Want to know more?
Sensible family hatchback that wins fans for providing no-nonsense transport.
Your Complete Guide To Car Leasing
In simple terms, leasing is the single most cost-effective and hassle free method of driving a brand-new car, and with Select Car Leasing you can be sure that you are in safe hands.
Vauxhall Corsa-e Frequently Asked Questions
The Vauxhall Corsa has gone from being a solid supermini to being one of the best small hatchbacks you can lease, with funky, modern looks and plenty of fresh technology. It's small, safe and easy to drive, making it a hit with customers across the country. And when you take out a lease, you'll be able to get one of these must-have hatchbacks for less than you might think. Fixed monthly payments will let you manage your finances more effectively, while also taking away the stress of high initial payments and depreciation concerns.
The Vauxhall Corsa is excellent value, with a wide range of different trim levels and engine options that allow you to pick a variant that suits your needs and desires. Whether you want a sporty little number or a no-nonsense, cheap-to-run hatchback, the Corsa can do the job. And because Select Car Leasing has links with some of the biggest names in the car industry, we can offer you some of the UK's most competitive car leasing options and a selection of special deals. Take a look at our wide spread of Vauxhall Corsa lease deals to find the agreement that will suit you best.

When you take out a Vauxhall Corsa lease, you'll get a cool little hatchback that offers plenty of choice for customers. Vauxhall has really come into its own of late, and the Corsa is one of its best and most popular models, thanks largely to its flexibility. Whether you want an electric runabout or a compact car that sips fuel on the motorway, the Corsa can provide. And it'll give you a choice of equipment levels while it does so. If you want to find out which version of the Corsa will suit you best, check out the model description you'll find at the top of this page.

Although it's small on the outside, the Corsa is as spacious as any other model in its class. There's enough space for four adults in the cabin, and the boot is big enough to cope with pretty much anything you can throw at it. Within reason, of course. And because it's one of the most modern models in the Vauxhall range, the Corsa is also very safe, earning a solid four-star score in the European New Car Assessment Programme (Euro NCAP) crash test. And it comes with bags of driver assistance technology to help prevent accidents happening.

The Vauxhall Corsa might be a small car, but the range is enormous, with a huge number of trim levels available and a massive choice of engines. That allows you to pick the level of luxury and economy that suits your needs and your budget, with a handful of options that let you personalise the car to your tastes. With so much standard equipment, however, you won't need to do too much tweaking to the car anyway.


Don't just take our word for it. We're rated at 4.9/5 on independent reviews website Trustpilot from over
28,222
genuine customer reviews
Great service from Darren and the team.
Great service from Jack Marshall at Select Car Leasing. I'm by far not the most decisive of customers and Jack was extremely patient and helpful in sourcing the right vehicle for me. I would certainly recommend the company and Jack to anyone looking for their next car.
Ash Knight provided an excellent, seamless service. He explained everything really clearly and provided options. The process was very easy thanks to him and his team. I wouldn't hesitate to recommend Select Car Leasing.