Kia Niro Lease
The Niro is Kia's self-charging hybrid or plug-in hybrid SUV option, with a highly efficient drivetrain and strong practical features.
Read more
The environmentally-friendly hybrid features a green 1.6 litre petrol engine which returns 74.3mpg and it will emit only 88g/km of CO2 - a comparable figure to many superminis and small hatchbacks. While the plug-in hybrid variant will return in excess of 200 mpg while emitting just 31 g/km of CO2.
The Kia Niro is a practical family car that represents great value, with a welcome bonus that it's also a whole lot of fun to drive. It's available exclusively as either a hybrid, plug-in hybrid, or fully-electric vehicle, with the e-Niro electric in particular representing great value as a do-it-all lease car, capable of travelling 282 miles between charges and offering almost hot hatch-like acceleration.
For more information on Kia Niro Lease, simply call us on 0118 920 5130.
Read less
Price match guaranteed
Industry leading competitive rates
Kia quality product
Brand new cars delivered to your door
Cover your service costs
Full maintenance plans available
Expert leasing consultants
rated on TrustPilot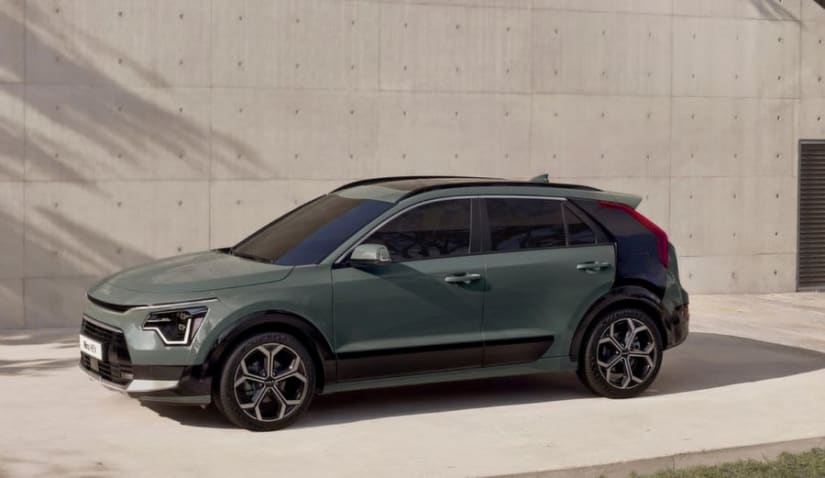 Want to know more?
A capable hybrid small SUVs with the potential for big fuel savings, with a reputation for reliability.

Your Complete Guide To Car Leasing
In simple terms, leasing is the single most cost-effective and hassle free method of driving a brand-new car, and with Select Car Leasing you can be sure that you are in safe hands.
Kia Niro Frequently Asked Questions
Car leasing deals are becoming increasingly popular in the UK, because it allows customers to drive desirable, high-tech, brand-new cars such as the Kia Niro on a budget. With fixed monthly payments and no huge up-front costs or depreciation to worry about, it's a great way of driving a new car without breaking the bank. And because the Niro is so high-tech, you know you're driving a car that's as safe and as efficient as possible, while also having the security of a brand-new vehicle and a manufacturer warranty.

The Kia Niro is available in a variety of guises, and that means there's an eco-friendly, high-tech model available no matter what your lifestyle looks like. For the lowest running costs, you can have the all-electric e-Niro, while the hybrid versions give you more flexibility on long journeys. Select Car Leasing is linked with some of the car industry's biggest players, and that allows us to offer you the UK's most attractive and appealing car leasing deals, as well as a range of special offers. Check out our Kia Niro leasing options to find the agreement that suits you best.

The Kia Niro not only comes with a wide range of powertrain options, but it's also bestowed with Kia's high-quality, high-tech interior, as well as modern styling. The futuristic look is backed up by the classy cabin, as well as the wealth of standard equipment and safety technology. There's a great on-board infotainment system, as well as special features relating to the hybrid or electric powertrains, and you get the latest driver assistance technology to help keep you safe. To find out which trim level will work best for you, check out the model description you'll find at the top of this page.

The Kia Niro's SUV shape makes it an enormously practical family vehicle, with plenty of space for passengers and ample luggage capacity. It's also very safe, thanks to a host of electronic systems that are designed to prevent accidents occurring. Should the worst happen, you can rest assured the Niro scored well in the European New Car Assessment Programme (Euro NCAP) crash test.

Leasing a Kia Niro opens up a wide range of choices. Not only do you have to decide between hybrid, plug-in hybrid and electric power, but you also have to pick from a range of trim levels that all come with bags of standard equipment. Even the entry-level model is well equipped, but you can bag even more luxury by looking further up the range. Top-end cars come with a host of safety features, as well as goodies including leather upholstery and heated steering wheels.


Don't just take our word for it. We're rated at 4.9/5 on independent reviews website Trustpilot from over
25,434
genuine customer reviews
I've just placed an order with Scott at Select Car Leasing for a Nissan Juke. From the first telephone call right through to placing the order, Scott guided me through the process making the whole experience so simple it was brilliant. I would highly recommend Select Car leasing.
Really good service throughout. I thought the website was particularly easy to navigate whilst choosing the car. Once I had selected something that was right for me I did have a couple of issues with what information I needed to load up. However, a quick email was answered promptly and courteously. Cash Oza, who worked my account, was particularly helpful and was always happy to jump on a call and answer all my questions no matter how small or repetitive they were.
Very good customer service! Obviously took a bit longer to get the car as the car industry is a bit all over these days but always was reassured and checked up on often, would highly recommend!