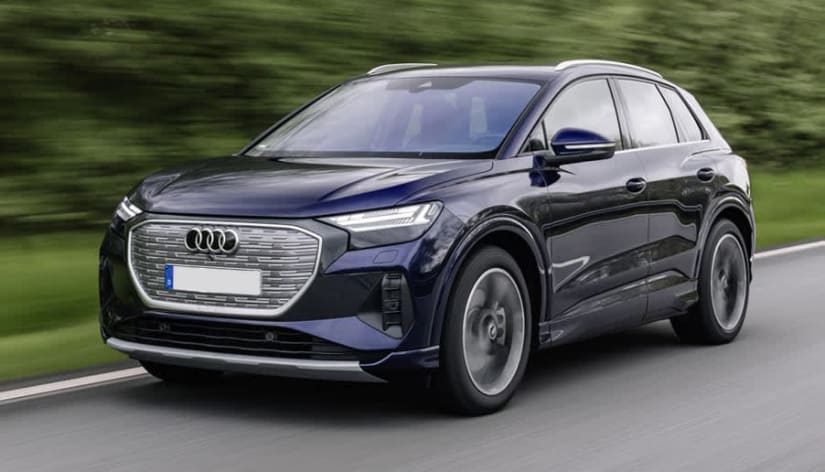 Want to know more about an Audi Q4 e-tron lease?
Audi's mid-size, all-electric SUV aims to be the premium family car that we've been waiting for. With a range of more than 300 miles and some cutting edge tech, it's also spacious and good to drive.

Your Complete Guide To Car Leasing
In simple terms, leasing is the single most cost-effective and hassle free method of driving a brand-new car, and with Select Car Leasing you can be sure that you are in safe hands.
Audi Q4 e-tron Frequently Asked Questions
Car leasing is getting more popular all the time in the UK – and it's obvious to see why. If your budget doesn't stretch to buying an Audi Q4 outright, you could drive one away in any case by leasing and spreading your payments out monthly. So, whether it's the German brand, the engineering, the luxury interior or the performance, an Audi Q4 may be a lot more affordable than you think. Leasing also means that the stresses over depreciation become a thing of the past, as you hand the car back to us at the end of your agreement.
There is a range of choices available when it comes to trim levels and styling, which influences the price. However, this means that there's bound to be an option to suit you. Our links to the automotive industry are some of the closest you can get. This means we're in a great position to get ultra-competitive rates and discounts, which we pass on to you. So please have a look around our website to view our latest exclusive deals and special offers. Then find the Audi Q4 that best suits your needs and monthly budget.
With an all-electric Audi Q4, you'll be getting a car that features a superbly comfortable and luxurious interior from one of the most esteemed brands in the world. You will be getting the elevated driving position of an SUV, along with the quality and performance typical of this German premium manufacturer. With modern exterior looks, it also features a superbly designed interior, in addition to the latest technology, safety gadgets and driver assistance systems, keeping you safe as possible. Have a look around our website to see exactly what you'll be getting and spec up your perfect Audi Q4.
The Audi Q4 features all the latest safety systems that are designed to prevent accidents. However, if the unthinkable occurs, the car features tech that will apply emergency brakes and protect you as much as possible if it's unable to avoid a collision. You can also be assured that the Audi Q4 has been thoroughly analysed by the European New Car Assessment Programme (Euro NCAP). The organisation extensively tests new vehicles in many different categories – and the Q4 scored impressively well. Furthermore, being an SUV, you'll be getting a superb combination of passenger room and boot space.
The Q4 comes in various trim levels, with additional sportier styling elements added, along with more safety features and technology, as you go up the range. However, as is the case with all Audis, the Q4 comes with a notable selection of equipment as standard, even at entry-level. In addition, all Audi Q4s include driver assistance technology and safety systems to keep you and your loved ones safe behind the wheel. And, no matter which one you choose, you can rest assured that you'll be getting a top-quality car at the lowest possible price.

Don't just take our word for it. We're rated at 4.9/5 on independent reviews website Trustpilot from over
27,533
genuine customer reviews
Great service from Ali with constant updates. Delivery of the vehicle was well executed
Great experience. Helpful, patient, not pushy sales. The Sales rep (Lee) was great and even managed to get me a car sooner. When I was undecided between a few cars, although he wasn't allowed to give me advice on the car (which is understandable) he was very responsive by email as I asked about spec, lead times and price.
Janine was externally helpful through the process, early delivery! Can't recommend them enough Thanks