Van Size & Dimensions
Giving serious thought to the matter of van size and dimensions is something that will really pay off, so read on as we explain exactly what you need to take into account!
Van Size & Dimensions
As with Payload, accurately calculating your dimension and capacity needs is really important, because rough estimates have a tendency to be way off.
Importantly, also try to allow for a little extra space in the van if possible, because whilst you don't want to be driving around in a van that's excessively big for your needs, you also don't want the frustration of having to work within the minimum space available. Bear in mind that a larger van doesn't necessarily mean a higher payload capacity, but simply that the internal space is bigger.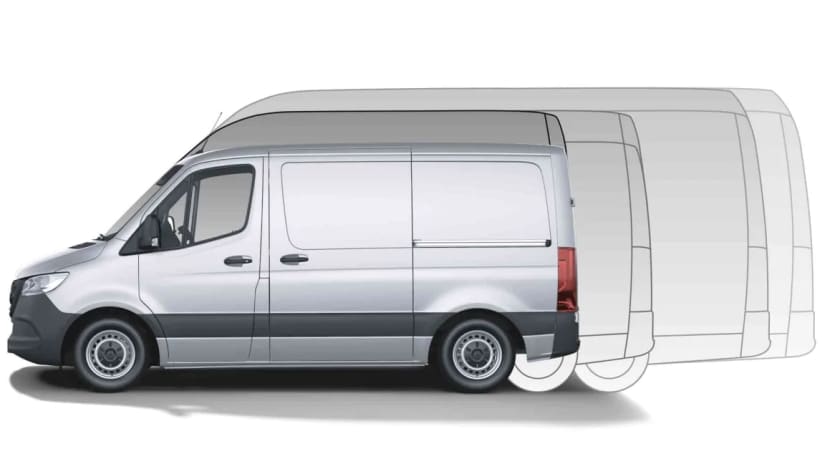 Load Height, Width, Length: Wheelbase
A van's body length is measured by the distance from the van's front axles to it's rear axles and is known as it's 'wheelbase'.
There are four van wheelbase options: a short wheelbase (SWB), a medium wheelbase (MWB), a long wheelbase (LWB), and an extra-long wheelbase (ELWB).
Whilst longer wheelbases enable you to transport more goods and heavier loads, if most of the time you're not going to fully utilise the space , we'd recommend you go for a smaller van. Whilst larger vans have their advantages, a longer wheelbase will pose challenges for parking, loading, unloading and manoeuvring, plus they're more expensive on fuel.
In addition to the various wheelbase (i.e. length) options, some manufacturers also offer roof height options - usually low, medium and high - so, if you find a van you like but the roof isn't high enough, make sure you check if other roof heights are available.
As a guide, typical dimensions and payload capabilities for different wheelbase options are outlined below (however, be aware that dimensions and weights vary depending on make and model):
Short Wheelbase (SWB) Vans
Load dimensions: Length 2.5m, Height 1.4 - 1.65m, Width 1.7m, Payload 900 - 1200kg
Medium Wheelbase (MWB) Vans
Load dimensions: Length 2.9m, Height 1.7m, Width 1.7m, Payload 950 – 1250kg
Long Wheelbase (LWB) Vans
Load dimensions: Length 3.5m, Height: 1.8m, Width: 1.8m, Payload 900 - 1200kg
Extra Long Wheelbase (XLWB) Vans
Load dimensions: Length 3.9m, Height 1.9 - 2.3m, Width 1.9m Payload 1200 - 1500kg
How To Calculate The Van Size You Need
To calculate your ideal van dimensions, you'll need to calculate and take into account each of the following factors:
• The length, height and width of equipment you regularly carry (including ladders)
• The length, height and width of job supplies/goods you regularly transport (planks of wood, plants, slabs of concrete etc.)
• Whether you need your van to be able to occasionally carry that extra-large piece of equipment/additional job supplies (or whether occasionally hiring alternative transport/a trailer would be more sensible)?
• The space you need to comfortably work in (if you work in your van)
• Whether your space needs are likely to change in the near future and if so, how (e.g. is your business moving towards larger contracts that demand more or larger amounts of equipment or supplies)?
• Whether you'll face any location-based height restrictions (we'll discuss this shortly, but think low headroom, carpark height restrictions, tight city parking spaces etc.)
Once you've got a handle on the maximum height, length and width of van you'll need, you'll be able to better understand both the body types and van dimensions that will suit you best.
How To Choose The Right Van
Now you've got a better idea of what to look out for in terms of van size & dimensions, why not explore more of our guides on How To Choose The Right Van.
Alternatively, simply get in touch with one of our specialist van leasing consultants on 01656 337337 or contact us at enquiries@selectcarleasing.co.uk
Where To Next?
Select Van Leasing are one of the UK's largest independent specialists for van and car leasing. Whether you are looking for more information on leasing, electric vehicles or looking for special offers - here's some links to help you get to the right place!
Van & Pickup Special Offers
Browse our special offers on vans, pickups and commercial vehicles
Learn more