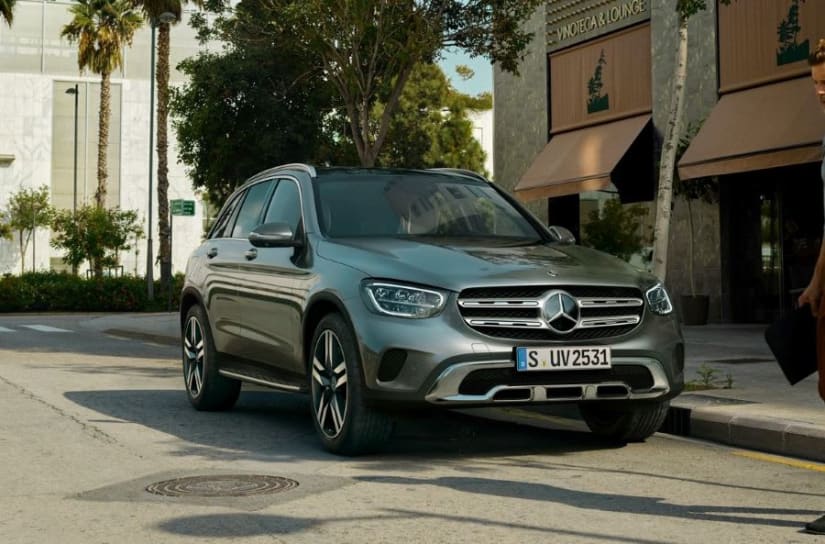 Want to know more about a Mercedes GLC lease?
Classic Mercedes styling cues team with the latest technology, a luxurious interior and strong economy options.

Your Complete Guide To Car Leasing
In simple terms, leasing is the single most cost-effective and hassle free method of driving a brand-new car, and with Select Car Leasing you can be sure that you are in safe hands.
Mercedes GLC Frequently Asked Questions
If you are looking for a compact SUV, then the Mercedes-Benz GLC could be just the ticket. But if buying a Mercedes outright is off-putting or unaffordable, then the option of leasing may be much more appealing. Leasing is very common in the United Kingdom today – and it's growing in popularity all the time. Not only does it give you the chance to spread the cost out over monthly payments instead of buying outright in one lump sum, but it also means you don't need to worry about depreciation, either.

There are many combinations and add-ons available for the Mercedes-Benz GLC, which can heavily influence the price. There are different trims, engines and optional extras that can all have an impact. Still, there will be a combination that suits you, whether you're after an economical cruiser or a performance SUV. Please have a look around the website to find out about our latest deals and special offers available nationwide. Thanks to our links with the automotive industry around the globe, we are in a position to offer hugely competitive prices.

The Mercedes-Benz GLC is a premium SUV that encompasses the very best of German automotive engineering. With the GLC, you'll be getting a car that's luxurious, spacious and packed with the latest safety systems, driving assists and technology, controlled through one of the best infotainment systems offered. What's more, you will be getting an SUV that handles really well, offering comfort and refinement to you and your passengers. Have a look at our website to find out more about the specific features of the Mercedes-Benz GLC to get some inspiration.

Mercedes-Benz has an enviable safety record. Indeed, the luxury German automaker offers a plethora of technological gadgets, safety systems and driving assists. This tech is aimed at keeping you safe on the road, preventing accidents and protecting you in the event that one occurs. The Mercedes-Benz GLC was extensively tested by the European New Assessment Programme (Euro NCAP) and scored well in all the categories in which it was assessed. Inside, the Merc is roomy and comfortable, while it has a very big boot that competes well with its class rivals.

The Mercedes GLC has many different trim levels designed to offer something for everyone, from those focused on luxury and comfort to those more aimed at drivers who want to maximise their car's performance and sporting pedigree. There's also a range of engines offered, including both petrol and diesel plug-in hybrids, petrols and diesels. You'll find that no matter what you choose, all GLCs are exceptionally well-equipped, offering many features as standard. Have a look around our website to discover more about each trim level to see what appeals to you, so you can begin honing in on your GLC of choice.


Don't just take our word for it. We're rated at 4.9/5 on independent reviews website Trustpilot from over
27,049
genuine customer reviews
I am extremely happy with Chris Bowes (Select Car Leasing). It was the first time I dealt with a car leasing company, and they made it really easy and straightforward. I had loads of questions I bombarded them with, and they always emailed me back almost straight away. They reassured me and kept me up to date. a very professional team and a great company. I did not have a single issue and I got it in just a few weeks. GREAT JOB by Chris Bowes.
Right from the start my appointed representative Cash Oza was extremely helpful and answered any questions I had without hesitation. I was pleased this service carried on after the contract was signed.
Select Car Leasing have been amazing to deal with. My leasing consultant Kieran Henry was incredible. He bent over backwards to help me throughout the process. Thank you